Voting is now closed! Check back on September 11th to see who won!
---
Thank you for supporting Covers 4 Others!
Your vote could help provide a homeowner in need with a free roof and help build a blueprint for a better life.

Scroll down below the voting form to read each nominee's story, then submit your vote!
There is no limit to how many times you can vote.
The voting period begins August 12 and ends August 31. 
Winners will be announced on Patriot Day (September 11).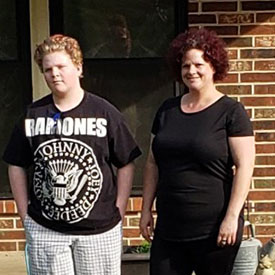 AMBER B.
Gassville, Arkansas
Amber is a hardworking single mom to a 12 year old boy, 2 dogs, 1 cat, & Rango, the chameleon. She plays the role of Mom & Dad, nurturing side of a mother & strength of a father. She works full time while she is always involved in her son's school activities, never missed a field trip or class party. She has always been willing to help any of her friends or family by offering her spare bedroom, sharing meals, or watching children. She is strong, independent, owns her home but the weather has not been kind to her by causing a leaky roof where rain saturated through the ceiling & was dripping onto her coffee table, causing her heating/a.c. unit to go out. Her insurance would not help with these expenses but she was able to get a patch job on her roof, which is holding up so far. Covers 4 Others would be such a great blessing to her & her family.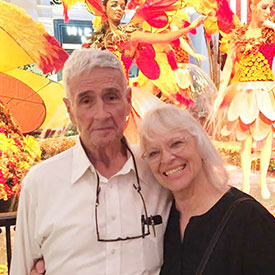 DALE & LINDA H.
Las Vegas, Nevada
Dale has had a bumpy ride. He'd also be the first to tell you how absolutely blessed he and his family have been over the years. Dale moved his family to Las Vegas in the mid 80's after getting a job at the Tropicana Hotel as a greeter/ bag handler. He has raised eight children in his home, numerous grandchildren and plenty of weary travelers. He just celebrated his 81st birthday and continues to work at "the Trop" full time. Because of his generous nature, his obligations, and infectious kindness, Dale has not been able to afford the upkeep on the wear of the roof and home. We've had two bids to fix it from $10k-$15k. I wish I could describe how worthy this man and his wife are to get the help of the community to restore their roof. He has played a critical role in his local community, volunteering his time and resources to even needier families, his congregation, scouts, sports and his family. He has had a few health issues over the years that have taken a toll on his stamina and weight. While his goodwill and kindness have continued in secret, I would like to help him be rewarded openly. Linda has been an incredible support to her family and community as well. She has been an active mother and support to her husband, helping to support the home working full-time and teaching piano to get by. They administer to others, are encouraging and have recently opened up their home again to two families that needed some temporary help.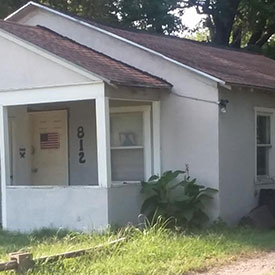 FIRST THINGS FIRST, INC.
Arkansas City, Kansas
First Things First, Inc. owns and maintains a house where 12-step recovery fellowships can meet on a regular basis. Our mission is to provide a safe environment for men, women and children to recover from the diseases of addiction. We have maintained this property for 22 years, having a positive impact on the lives of our community and the surrounding areas. Through 12-step recovery our organization contributes to the lives of individuals and families by improving the quality of life and saving the lives of 100's if not 1000's of people.
Five years ago we began having leaks in our roof. It has now progressed to the point of water pouring in the west front window and a deep sagging area that is unstable. As a not-for-profit organization we have only been able to raise a small portion of the money needed to fix our roof. Assistance from Covers 4 Others would help us to continue serving the recovery population for many years to come.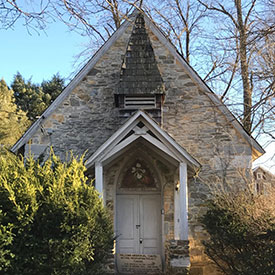 HALLTOWN MEMORIAL CHAPEL
Halltown, West Virginia
The Halltown chapel is a treasure of Jefferson County. It is in critical need of a new roof. The Chapel Association does not have the resources required. It really needs community help in order to preserve this landmark.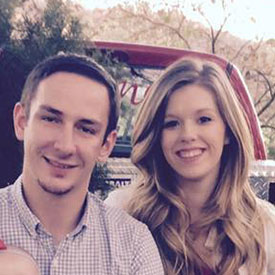 JOE & HEATHER G.
Jefferson City, Missouri
Joe and Heather are the sweetest couple you will ever meet. They met way back in second grade and were married on Valentine's Day 2015! Joe is a special education teacher and Heather is a gym teacher helping to educate our communities children and are always ready to lend a helping hand to those in need. They worked so hard to save up enough money to purchase their first home. They were hit with some major foundation repairs to the home having to take out a major loan for this repair and most recently discovered some major roof damage that insurance will not cover. They added a little girl to their family in 2016 and Baby #2 arrived in early July. This hardworking young family could certainly use the blessing of a new roof through this program. It would be so nice to see this young couple who give so much to others receive this wonderful gift.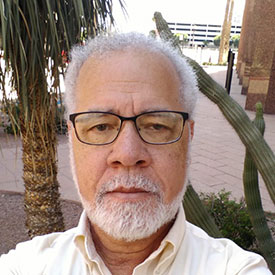 KENNETH P.
Jefferson City, Missouri
Ken has been a member of Jefferson City community for over 30 years. He is 71 years old. He is a retired state employee and dedicated loving father of six children and lots of grandkids. On May 22, 2019, a tornado hit the city and Ken's home was in the path. He has suffered roof damage and damage to the back side of his home. Ken did not have homeowners insurance. In 2009, Ken's beloved wife and mother of his children passed away from leukemia. A few years later, Ken was lucky enough to re-marry. In 2017, pancreatic cancer took his second wife. Ken has suffered so much loss. With the medical bills, he just was unable to maintain homeowner's insurance. Ken has always been a person that others went to when they needed help. Whether it was a place to stay, a ride, an ear to listen, or to spare a few dollars- Ken was always willing to do what he can. Right now he needs help. I hope others can find it in their heart to vote for this man that has made so many lives better, and give him a helping hand.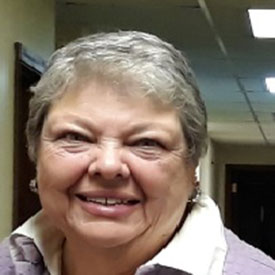 LINDA S.
Holden, Missouri
Linda is in need of a new roof and does not have the means to replace her roof. My father-in-law passed away a few years ago and she's been on her own since, to learn the finances and take care of the household things she didn't take care of before. The roof leaks and we've done what we can to make repairs; it is time to just replace the whole thing. My mother in law will turn 70 next year and although she isn't in great health, she still volunteers to teach knitting classes at the local library and attends weekly Bible study.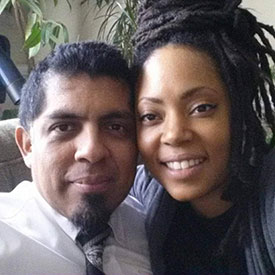 MARIA & LOUIS C.
Raleigh, North Carolina
Maria and her family have their share of life struggles. Their home was hit by two hail storms on May 13 and again on May 31 of 2019. Today their roof is damaged and they do not have the funds to meet their insurance deductible and they're unable to take a loan due to financial difficulties. The family spends a great amount of energy, time and money to care for their family, but the lack of money does not prevent this family from helping others. Maria has started a Facebook group to bring people together in service. She serves weekly the Raleigh Women's Shelter. She fiercely advocates for battered women and children. She has created a group that makes plarn (blankets made of plastic grocery bags) and crochets for the homeless. She also helps out at a free community dance class for women and keeps many of us motivated to work out, make new friends, and reach out to other cultures. She helps create love within the community amongst women that would not normally cross paths and helps women see their true worth. She always blesses others and never complains of her own trials. She is an angel.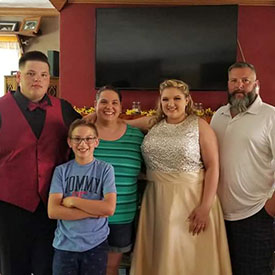 MARIANNA & BRIAN S.
Johnson City, New York
Brian and his wife are some of the most kind-hearted, giving people I know. After being a volunteer firefighter since January of 1994, Brian also helps out by donating materials, tools, and hours of his time to help rebuild and maintain the station. Marianna and Brian are also very involved in the community as they volunteer to help coach and mentor the local kids' football and lacrosse teams. They are always the first to call or come help out when they find out anyone is going through a hardship and always offer a helping hand in any way that they can.
Last year a bad wind and rain storm came through and knocked some branches onto their roof which caused shingle damage. Unfortunately, insurance denied his claim and paying for a whole new roof is not financially an option at this time. I think this would be an awesome way to say thank you to a family who has given SO much to their community and those that cross their path.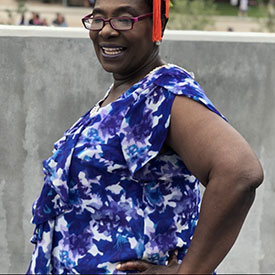 REGINA D.
Arlington, Texas
Regina is a selfless elderly woman who has dedicated her entire life to caring for and raising her 6 children and many grandchildren. As a single mother, she has worked tirelessly to be able to provide for her family. So much so that she neglected herself to make sure others' needs were met. Due to her increasing age and medical illnesses, she is now unable to work, and is on a fixed income which makes it very difficult to make ends meet. She recently learned that her roof became damaged due to years of inclimate weather, and anticipated that her home insurance would cover repair. She was devastated to learn that they only offered her $2k for repairs, not even 1/6 of the estimates she obtained. As a result, she is unable to replace her roof. Given that she has spent so much of her life pouring into others, I cannot think of a more deserving individual to be assisted with a new roof in such a time of need.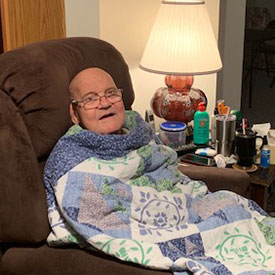 RICHARD K.
Tilton, Illinois
We have discovered after the hail storm that his insurance does not have replacement cost value and a very high deductible. He is very upset about this. This is a burden on him as he was recently diagnosed with brain cancer and has just completed radiation treatment. After all the years he cared for my sister during her illness I would really appreciate him being accepted and being blessed with this.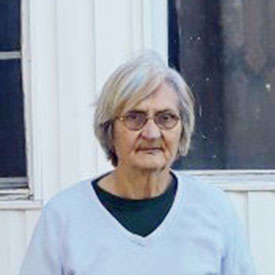 ROSE H.
Raceland, Kentucky
She is a 78 year old widower, who is on a fixed income, whose roof is literally falling off in the back of her house. Her house is literally falling apart and she doesn't have the funds to get fixed. The roof is leaking inside her home to the point where she has to use pots and pans to catch all of the rain from destroying her floors. She definitely deserves this roof more than anyone else. Thank you.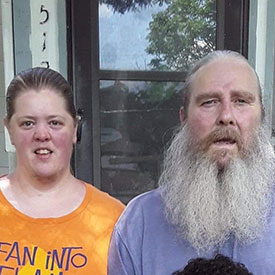 SALLY & GARY A.
Kansas City, Missouri
Sally and Gary are in dire need of a roof. Gary has had some strokes and other health conditions that restrict a lot. They currently have 2 leaks in the home - 1 in the bathroom and 1 in the living room that drips near the T.V. Both are good members of their community and Sally works with kids at Calvary Lutheran Church full time. When she isn't doing that, she devotes her time to Gary and her niece and nephew (both under 10 years); they are staying with her a lot. I'm hoping we can help them stay dry with a new roof!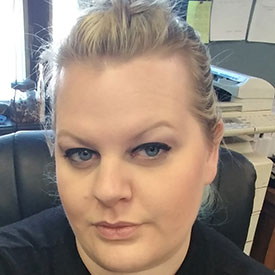 STEPHANIE H.
Elmira, Michigan
Stephanie is an amazing person and mother. She will do anything for anyone or any animal. She always puts herself last just to make sure her kids, animals and anyone else in need is taken care of. ! As life goes, there is never enough time or money to fix things when you are busy taking care of other people. She deserves this more than anyone else I know. Her two children also deserve this! She is a hard working mother and this would help her so much to make sure her kids and animals are safe during the cold and rainy months.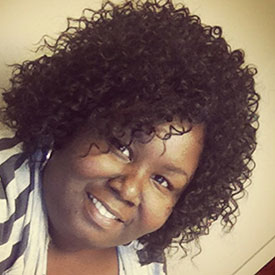 TOSHA K.
Greenwood, Florida
Tosha is a very hard working woman and a mother of 3. She has helped so many people in so many ways and hurricane Michael has really did some damage to her house. She is a really good person if anybody needs to win is her and her kids.
All nominee information was provided by third party nominators. Regarding the voting process, Aspen Contracting, Inc. reserves the right to withhold information including, but not limited to vote quantity, frequency and source. Aspen Contracting, Inc. does not discriminate in its Covers 4 Others program on the basis of race, color, national or ethnic origin, ancestry, age, religion or religious creed, disability or handicap, sex or gender, gender identity and/or expression (including a transgender identity), sexual orientation, military or veteran status, genetic information, or any other characteristic protected under applicable federal, state or local law.